A tropism is a directional response to a directional trigger. It's generally referred to in scientific circles, such as a plant growing in the direction of when light is being emitted. However, we can equally apply this thinking to the digital environment that marketers now found themselves in. Marketers today, are having to react to an environment that is in a state of rapid perpetual evolution. We've moved from 'build it and they will come', to 'listen, learn, create & engage with relevancy and they will build your brand'. New technologies are disrupting the status quo. According to Ernst & Young, in 10 years time, 40% of the Fortune 500 companies will no longer exist. Adapt or perish. Today, marketers must understand consumer habits, and meet them at key moments of receptivity across growing plenitude of devices and channels.
The audience is more connected than ever and therefore addressable than ever before. There has been a boom in digital devices, with the average Australian now having 5 connected devices. And we can expect to be a lot more connected within the next few years, with the advent of the Internet of Things. Cisco cited, 12.5 billion devices that connected to the internet in 2010, with this set to rise to 50 billion by 2020. This could stand to be a lot higher with the advancement of 3D printing and user generated connected devices, through the insertion of chips. Rise the Internet of Everything. This incorporates People, Data, and Process into the equation. The data we collect on individuals will greatly allow marketers to better service customers and best target the right prospective audience. We are expected to know a lot more about customers and prospects and have the ability to reach them wherever they are.
Social media enables huge scale at high levels of engagement, that plays across the conversion funnel. Consider this – it took radio 38 years to reach 50 million users. Facebook attracted over 200 million user in just under 1 year. If it was a country it would be the third largest in the world. From a B2B perspective, every 2 seconds, someone new joins LinkedIn. Simply put, the reach of social is phenomenal. Engagement levels ar also high. There are 300 hours of YouTube video uploaded every 3 minutes; over 58m tweets per day; and social media has overtaken porn as the number one activity on the web. Who would have seen that coming?? Beyond reach and engagement factors, social also plays a role towards the pointy end of the conversion funnel, with 74% of consumers relying on social media to influence their purchasing decisions.
Marketers now have the opportunity to leverage the power of social media with a solid Paid, Owned, and Earned marketing strategy. Businesses can build a community that advocates their brands. Use technology to understand more about your customers; deliver them relevant content; improve their experience with your brand; create advocates; and they will share your message and brand over earned social channels, as well as word-of-mouth. Essentially, build communities to drive improved customer lifetime value, and deliver free traffic through look-a-like prospects. All the while, reducing your spend on paid marketing efforts. But that's not to say we should discount paid media.
Through technology, we can be a lot more effective with paid media. Through data-driven marketing we can supress ads (i.e. wastage) and be more clever about the audience we target. And not just over social channels – across all digital properties. We have the opportunity to deliver the best message (or offer); to the right person; in the right channel; on the right device; in real-time. We have had Demand Side Platforms (DSPs) for a number of years that enable us to auction for the most relevant eyeballs. These DSPs now connect to Data Management Platforms (DMPs), which are designed to orchestrate a digital marketing experience across channels, with a single customer view (SCV). They effectively act as the central nervous system. However, it's not that simple. There are many different data warehouses that a company can use (cMDMs, EDWs, IDWs, DMPs, CRM systems, etc.). These all need to be connected and integrated, whether you buy into a one-stop technology tech stack or not. Cookies are also limiting when developing a SCV, but technology again offers a solution via fingerprint tracking. It's a far from simple process, but one that will yield enormous financial gains and longevity upon activation.
This stack should be owned by the business and marketers. Particularly, the 'always on' activity that is being done more and more through programmatic advertising. Last year, there was $21billion spent in global media programmatic transactions, with $53 billion projected by 2019. By having ownership of the data and processes, marketers can drive greater budget, communication, and conversion efficiencies, with a much greater degree of transparency. By all means, the agencies still have a large role to play with campaign led activity that can act as a catalyst to support this activity. However, as marketers begin to understand the efficiencies offered by in-housing, and the dearth of required talent subsides, we are seeing a strong trend towards marketer tech stack ownership transpire.
Through the technology stack today, marketers have the ability to not only push messages out, but also get valuable information back from their ad buys. Whilst the big publishers have been locking down their walled gardens, making it difficult to pull consumer data from their systems, it is still possible to p­ull identifiable attributes from social technologies to enrich your own 1st party data, as well as deliver personalised messaging to prospects in an agile and effective manner. And DMPs also facilitate 2nd party data trading – which is effectively trading 1st party data with strategically aligned businesses, in order to build out more targeted look-a-like prospects.
Data is more valuable than ad placements today and a few advertisers have been quick to pick up on that. A growing number of advertisers, with a large and rich 1st party database (and traffic to site), are looking to monetise their own data and generate new revenue streams for the business. Morever, agency groups, like Virgin's 'Red Planet', or Verizon's 'Precision Market Insights', are utilising their customer database to develop a proposition for other advertisers to enrich their own data and find new audiences.
The world is digital…and becoming moreso. We now have technlology, such as iBeacons, to help us reach consumers 'on the move', and traditional channels (such as television, radio, and Out Of Home) are already shitfting towards programmatic trading. It's a seismic shift that will have massive positive implications. Television is a multi-billion dollar industry and programmatic is only just starting to scratch the surface. It won't exist in the same way it does for Display advertising today, but the ads will become personalised and it represents a huge opportunity for brands, which companies such as ESPN are already starting to picking up (with their recent launch of their own DMP).
The technology stack is growing enormously and becoming increasingly difficult to navigate. Many of us will have seen the perennial Lunascape charts that illustrate the various marketing technologies in market. As indicated by the image, in the last few years, the number of marketing technologies has expanded tenfold. With such overwhelming choice, makreters might be inclined to sign up up to a marketing technology stack. Whether you sign up to a stack or customise your own, is down to your business objectives and infrastructure.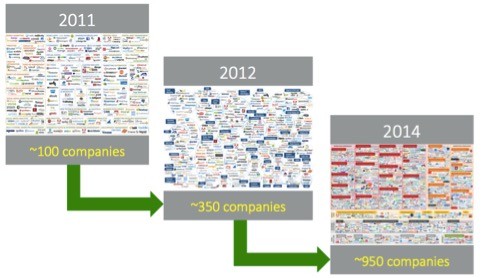 Understanding your data sources is highly important. Gartner's interactive 'Digital Marketing Transit Map', from a couple of years ago, does a great job of highlighting the areas of digital marketing landscape. However, it is somewhat outdated, even in that short timeframe. Some technologies are also more relvant to one sector over another. It also doesn't address the various types of data advertisers capture across the business (e.g. email, D.O.B., etc.) that allow us to stitch together a SCV, and then action upon it. At Oakton, we will soon release an infographic to visualise this for advertisers in order to help them understand the complexities of the marketing landscape, but then simplify a view of how to audit these data sources and the technologies that are collecting them. Watch this space!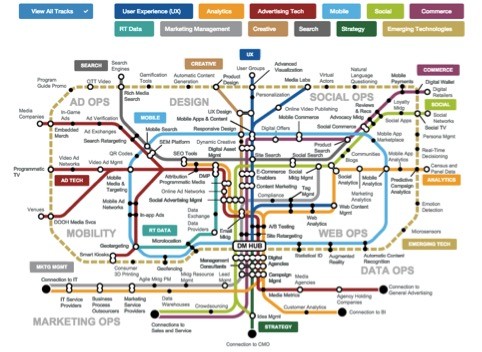 Marketers…your world is rapidly changing. Audit your data ingest & quality; evaluate your technology stack; review the processes by which you trade; understand your customers and relevant consumers; and meet them with a positive, unified, and enriched experience.