I recently had the good fortune of attending Sir David Attenborough's 'Virtual Reality (VR) Experiences', in Sydney's Australian Museum. It was an enthralling 22 minutes of exploring the Great Barrier Reef, in the Triton submersible, with the King of nature documentaries himself. As a wildlife enthusiast, I would have been entertained with the content alone, but the technology fan in me was equally keen to see what this Virtual Reality technology can deliver to the masses. I remember reading posts a couple of years ago about Sir David investing into VR and having his next production used with Oculus Rift (https://cnet.co/1rubmOM). The example, he used at the time, I believe, was being transported to the African safari; hearing the growl of a lion; and turning around to see it leap at you. Well, this event almost lived up to the expectation I then held. It was delivered via the Samsung Gear VR (powered by Oculus Rift) to great effect. London's National Museum and the Australian Museum are the only places in the world that have these screening put on and I would encourage anyone with an interest in technology and/or wildlife to head along for an incredible experience. Screenings run from 8 April – 18 July. There are anywhere from 1 to 3 screenings per day and I would guess at 70 – 80 seats, with many sessions already having been sold out. You can visit at https://bit.ly/1SXS2m9.
The experience surpassed expectations in many ways, but didn't live up to them in others. Overall, I would definitely recommend it. I got the impression that some people were there because it's Sir David; others simply for the Reef; and a number of them, to see the technology at work. I would assume that if you fell into any category you would have walked away happy. The show gives you a brief glimpse into an exciting future. It's a laboured and fiddly process at first. The curator tells you how to put on the headsets and earphones, telling you what to do; what will happen; and some narrative to the event. The screen comes on and someone tells you much of the same. The headset has three velcro straps, to fasten to fit; a dial, to adjust screen sharpness; a reset button, in case it's not been adjusted properly; sound toggles; and the headset goes on after the Samsung Gear goes on. In an age where the consumer is ever more expectant of technologies and experiences to slide into our way of life, this was a bit cumbersome. And the VR experience was almost 3D without quite getting there, because the imagery wasn't incredibly sharp. Even with this said, it was a mind-blowing experience. From the widescreen view of the planet, to flying over to Reef, and submerging within it, you can twist and turn and crank you neck to every angle possible to explore your surroundings. At times, it felt as though you are actually moving along and you'd be forgiven for reaching out and trying to touch the fish or people sitting next to you in the sub.
I came out the session exhilarated by the experience, but also at the prospect of things to come. The prospect, in terms of, what's already under way with VR technology and the impact this will have on our walks of life. If the imagery auto-focused to HD quality and the sound became 3D as well, the experience would be far more incredible. There's no doubt, improvements are on the way.
Investments in VR have already hit $1.1 billion in 2016 (https://tcrn.ch/1p2n8OZ), and analysts expect it to become a $30 billion industry by 2020. And Magic Leap has been leading the charge (in terms of investment), with $1.39 billion raised in funds, so far. The Virtual Reality of Oculus Rift is based on Stereoscopic VR. Without getting into the details, the alternative methodology – monoscopic VR – can provide up to twice the resolution. And whether Oculus Rift uses either methodology they will take you inside another world. Whereas, Magic Leap is looking to bring VR into your life, by having little dinosaurs appear on your desk, for example, through the use of a projector. This tiny projector shines into your eyes – blending in with the light that you're receiving from the real world.
Behind these technologies sits the supersize publishers of the world, mounting a technology arms race to dominate this market. Facebook purchased Oculus for $2 billion; with Gear VR, built in collaboration with Samsung. On the other hand, Google invested $542 in Magic Leap. Both companies have enormous potential use cases, for their respective products. With Facebook's purchase of WhatsApp, they have the user-base to enable having video chats with family members, as if they were in the same room as you. Facebook is banking on Social VR, according to announcement at their F8 summit, this April – https://bit.ly/22ILzOo. If the lofty spends in VR are to be justified, the mainstream uptake will have to driven through single-user experiences, as well as social ones. It's worth noting that Facebook's CEO, has taken a lot of heat off the back of the F8 summit where he demonstrated capabilities to a broader audience, pictured below. In publications since then, he's been characterised as a narcissistic business oligarch hell bent on turning us into his army of drones – akin to sucking the very thoughts out of our minds with these hoodoo voodoo machines. With innovation comes trepidation, but hopefully the positive implications of VR wins the day and cuts through the negative hype.
With Google's say in Magic Leap's development, we can also see limitless applications, from face-to-face company meetings to guided tours of your holiday destination. Magic Leap have been fairly secretive by comparison with Facebook and others, but we will surely hear a lot more from them in 2016.
Lest we not forget Microsoft with their Hololens product. Whilst it's not VR, it is their bet into this general area, with Augmented Reality (AR). As you can see below, it's quite sleek, but one user described it as 'like having a computer on my face'. That's surely not the end goal, by any means. You can preorder the Hololens for around US$3,000, compared to around US$150 for the Samsung Gear VR. The Hololens is at pre-order stage, but with that price, it is unlikely to dent the forecast 2 million unit sales of Oculus Rift, Sony Playstation VR, HTC Vive, and Samsung Gear VR, by the end of the year. Although the target market is different, Microsoft will need to come down in price in order to become accessible to the masses.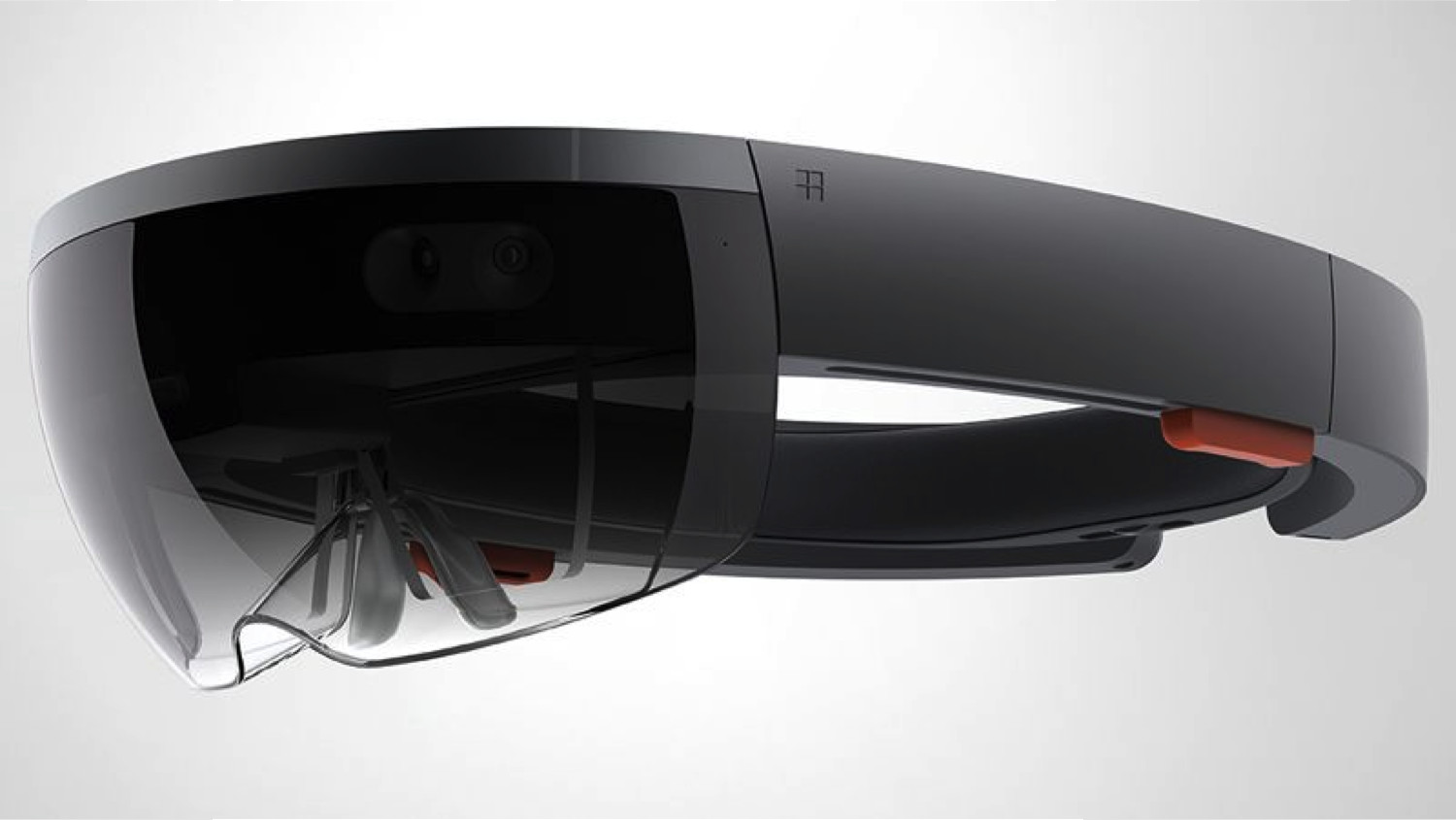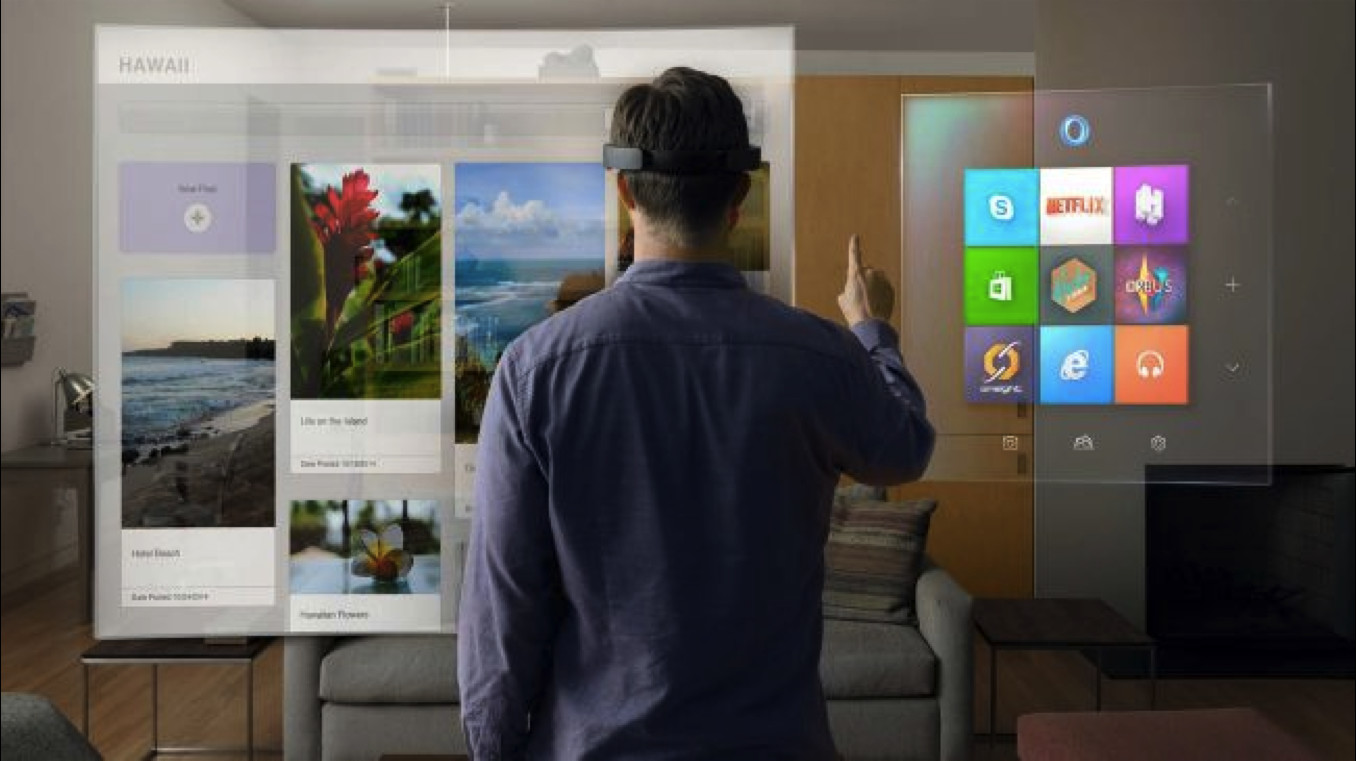 I don't think this will be a case of simply saying Facebook will win, as there is enough opportunity in market (and different markets) for all parties to take a slice of the pie. However, there is always one that wins out. Or at least a duopoly in market, for a while. If it came down to a duopoly you wouldn't lose your job for betting on Facebook and Google. Not only because of their size and influence, but also because of the factors that earned them both those things. They understand the consumer extremely well and UX has been a cut above the competition. It will be interesting to see where they focus their efforts. For instance, Facebook may tackle the interactive cinema audience, communication, and so forth. Whilst Google may look at the connected home and office, and build around their much lauded 'Internet of Things' products and apps. Sony will likely shoot for the gamification VR market.
It's an exciting future ahead for VR. Taking a look at Gartner's Hype Cycle, below, VR is 5 to 10 years from mainstream adoption, but I have a feeling that it could happen a lot sooner than that, as these major players put some real muscle into developing content, applications, and bringing down cost.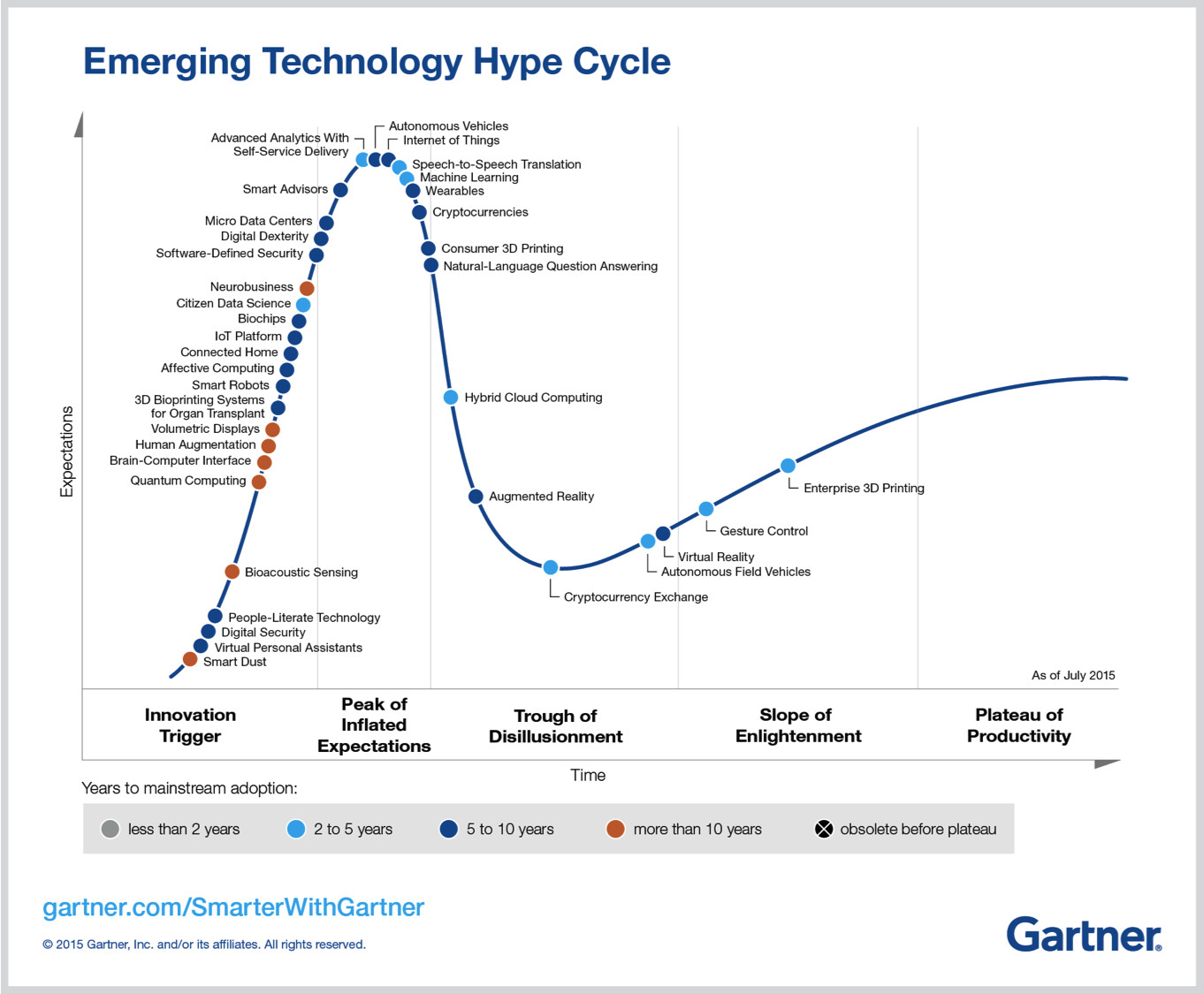 As someone who's had a brief experience of the technology, I'm almost ready to get a VR set myself, for games, videos, etc. The only thing holding me back is how it will connect with other devices and how far reaching the applications will be. I can't wait to see how the use cases develop, well beyond the 'at home' environments. I'll be heading back to watch Sir David's other showing – 'First Life Experience' – and I'd recommend anyone who has the chance does the same. As for the publishers, the products may alter, but the promise of a future with interactive content is one they will strive for, fortunately.